I'm conducting an interesting herbal first aid and healing experiment on my thumb right now.  Not by choice, mind you, but by dumb accident.
Last Tuesday I was trimming branches in my cherry tree with a little hand saw when I cut my left thumb really badly.  Just a dumb mistake about the way I was holding the branch while cutting.  I looked down and in the second before the bleeding started gushing I could see three deep cuts from the teeth of the saw right across the top of my thumb.  The middle cut was so deep I could see white at the bottom.  At first I thought I had cut myself clear to the bone.  Turns out it was only the tendon.
Luckily I've learned a bit from Dr. Christopher and the School of Natural Healing as well as from my dear wife who is an herbal devotee.  I ran into the house straight for the kitchen and grabbed the cayenne pepper powder.  I started packing it directly into the cut to stop the bleeding.  It stopped within just a couple of minutes.
Everyone always asks if it stung.  This is the first time I have had to do this kind of first aid on myself and I assumed it would hurt pretty bad to pack a wound with straight cayenne pepper.  After all, that stuff is hot!  Surprisingly, however, it didn't really hurt at all.  My thumb hurt because I was putting pressure on it to stop the bleeding, but after it stopped bleeding and I stopped the pressure it didn't hurt at all.  Not even a little bit.
Next I got a cup of water so I could mix cayenne and take it internally.  My wife, Tara, came home and walked in the door right at that moment.   What a site to walk in on.  She quickly dumped a ton of cayenne into my water and had me drink it.  Within just a moment I started sweating, felt faint and had to lie down.  I felt like I was going to vomit for a few minutes too.  I don't think I've ever had that much cayenne all at once before and I definitely felt it.  That feeling passed after about 5 minutes and then I felt great.
I was surprised.  After all, I was still laying on the floor of my kitchen with my hand raised on a footstool.  My thumb was gashed wide open.  And Tara had to run to the store because we didn't have any butterfly bandages left.  But I really felt great.  My thumb didn't hurt in the slightest, and I was feeling pretty energetic right then.  I was just amazed at how quickly the cayenne had stopped the bleeding and stopped the pain.  So I made a video.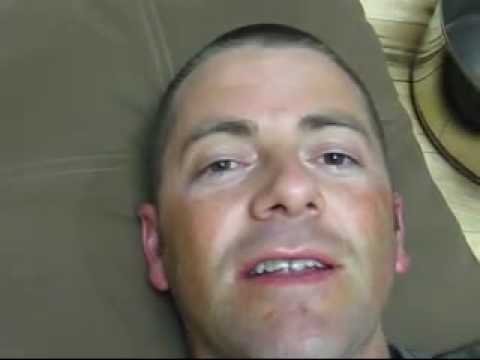 When Tara came back we cleaned out the cayenne and slathered a ton of Dr. Christopher's Comfrey Ointment over the wound.  Then we put the butterfly bandages on and wrapped it up.  I took 6 Complete Tissue and Bone Capsules each half hour until I went to bed that night.
For my first personal experience with herbal first aid, I am impressed.  I just wish it wasn't my thumb I am experimenting on.  I will post updates on the progress of the healing.